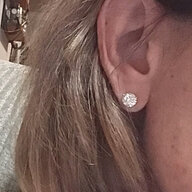 Joined

Oct 25, 2012
Messages

2,565
You've got in your head that because they may not live up to the EGL grades they are crappy and that's not the case. If they are well cut and in fact eye clean then they are desirable and not all crappy. You may not get back what you spent initially but you should get a fair amount for them - much more than $2500. She'd want to help you because she gets a commission for selling. And she's super well known and people respect her. With her listing them you'd have lots of eyes on them and buyers will feel more comfortable buying from a business rather than an individual. When you get the GIA reports back definitely reach out to her before selling at auction through your boss.

PS - some of my favorite things I own are my 1.47 ctw J studs and my 0.5 I1 Eightstar pendant. Not what would be considered top quality by any means but they are gorgeous and there are lots of buyers like me out there that see the value in well cut stones that are of lower color and clarity.
That does put it in perspective thanks....