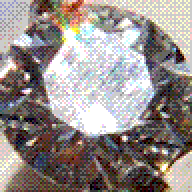 Joined

May 17, 2003
Messages

211
I have started to post pics
here
.
I absolutely LOVE the 1.33ct SI1 J H&A!!! It is awesome! I don''t have any problems with it being a J, it might as well be a D to me! Of course I don''t have much to compare it to. But I have no regrets with color! Clarity is awesome as well, the inclusion can be seen if you know where to look, squint and cross your eyes, and tilt the stone at the right angle. Even then it is so small its easy to miss. The cut is beautiful, as you can see in the hearts pic at the link above. Looking at it in sunlight... WOW!!! Totally amazing! Can''t wait to post more pics to show ya''ll!

The 0.55ct and 0.528ct side stones are SI2 J H&As... I suppose I''m happy with them. Don''t get me wrong, they are cut really well and have great really nice sparkle... they both rated a 1.7 on the HCA (the 1.33ct got a 0.8!). One has very difficult to spot inclusions, but the other... kinda bothers me.
It has one small black inclusion right in the center of the table and another slightly bigger one towards the edge, but not far enough to be covered by a prong. These two are the only visible inclusions from the top, looking through the pavillion it looks like a ring of inclusions about halfway down the pavillion. This is because there are a couple inclusions there and the pavillion makes a bunch of reflections. So it looks horrible from the backside but its not easy to spot the inclusions from the top.
I handed the stone to three seperate people and asked them if they could see any inclusions only by looking at the top and they said they couldn''t. I''ve decided its acceptable because of this... I know its hard to see the inclusions from the top and thats what counts, even if it does look really bad from the bottom. I''ll try and post some pics of this if I have time. The Vatche 3 stone truffle is pretty open, but I don''t think anyone could see into the pavillion unless she takes the ring off. It still bothers me that there are inclusions like that, even if they don''t matter.
Overall though, the 3 stones are amazing and everything I could hope for! Its going to be totally killer once they are set!
Much thanks to all who have helped me along the way, as well as
GoodOldGold
for such amazing diamonds!!