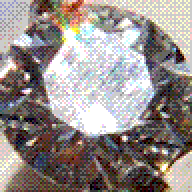 Joined

May 17, 2003
Messages

211
As some of you already know, I'm got a 1.33ct, SI1, J, H&A, AGS000 cut stone for the center and two slightly larger than 0.5ct, SI2, J, H&A, AGS000 cut stones for the sides. The bad boys are all going to go in a Vatche 3 stone truffle setting.

Thanks to Jonathan at
GOG
, I received the stones loose today for inspection!
I got all set up to take pics, but by then the sun was down.

So I played around with the camera a little but didn't have a whole lot of time so I just snapped a few pics of the 1.33ct. I plan on taking an enormous amount of pics, this is only the beginning!!!
Was hard to get the camera straight over the diamond to take a pic of the arrows and still get sufficient light in the stone. The sun does amazing things with the stone, this pic from indoor lighting doesn't do it justice!
I'm surprised how well this pic came out! I had the camera in the right spot and everything, I just didn't have quite enough lighting. I'm not sure how much of the specks are dirt and how much are inclusions... it sort of looks like the spec on one of the chevrons matches the location of the tiny feather that makes the stone an SI1. I'm not sure if the spec on the heart is an inclusion but I'm pretty sure the rest is just dirt. I'll have to spend more time making sure it is absolutely clean next time!
More to come tomorrow!! As long as I don't have to work late that is.