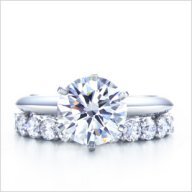 Joined

Dec 19, 2006
Messages

46
Good Morning All!
I have had my mind set on getting the Tiffany diamond/eternity band for my wedding ring, however I just saw another diamond band in a jewellery store over the weekend that I fell in love with.
I''ve got a picture of it but I can''t import it, no matter how small i shrink it, so I''ll do my best to describe the deisgn.
This particular diamond band had double claws, and each diamond is set into like a semi circle..........not sure if this makes sense

, would be easier if I could find a picture. It seemd that this type of setting allowed you to 1) see more of the diamond, and 2) allow for more light to enter because the metal was covering the sides of the diamond.
For this particulare ring I''m look at 21 pieces of 1.68 ct so each diamond would be 0.08 points.
If someone knows what on earth I''m talking about and has a picture - I''d be most grateful!!!
my question is for those of you who are diamond band experts
what would your opinions be around the styles. I know its inidivdual preference but I would be keen to hear other people''s thoughts. For example, do diamonds look more squre once their set in double claws?? Or does a ring look heaver because of double claws?
Any ideas or suggestions would be fantastic.
Thanks so much