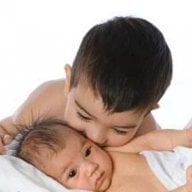 Joined

Apr 24, 2004
Messages

1,464
This is a project many months in the making, and it is *finally* ready!
(ETA: The project took this long because I had tasked
GOG
to look for a suitable center stone and supply was low at that stage in the size/clarity I was looking for, and when I finally got the stone, Mark's schedule was pretty full and I told him there is no hurry as I wanted him to be able to design something marvelous and be able to work on it at his leisure. Patience *is* a virtue, no? *hee hee*)
Some of you may remember that I was in the market for an upgrade from my 1.56 G Si1 H&A RB. This is a combination wedding anniversary and 'maternity' set from my dahling hubby. We've already been blessed with the arrival of little button on 28th Sept 2006, and this set of rings is the 'icing' on the cake, so to say

I will post handshots when I receive the rings hopefully sometime next week (has to go back to
GOG
from Mark Morrell, and then shipped to Australia and go through customs rigamarole).
In the meantime, here are some pictures: