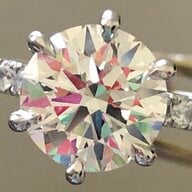 Joined

Jun 11, 2020
Messages

202
I have had this diamond for about 6 months now. I put a lot of time, effort and research in finding the perfect diamond with the perfect cut. After declining a lot of diamonds from my jeweler I finally came across a 1.01ct round brilliant diamond with a HCA score of 1.6 (ex ex ex vg).l, hearts and arrows under the hearts and arrow viewer.
I always thought it was nice and sparkly
However lately I have started to take note of other people's diamonds and mine just doesn't seem to compare. The other diamonds are more clear and glassier with flecks of blue. Mine always is just white, it doesn't seem to have any fire at all no matter what lighting it's under. I always clean it and it still doesn't change the lack of fire.
I'm so upset as I really wanted a beautiful sparkly diamond but it just seems to fall flat a lot of the time and just looks white.
Can anyone tell me why this is? I think that fire makes a diamond look so beautiful and it's disappointing that this diamond which was quite expensive ($15000 AUD including the ring)