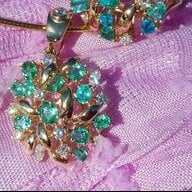 Joined

Jun 30, 2014
Messages

2,378
My latest ring arrived and I think I'm in trouble, lol. It's been awhile since I've been this entranced with a colored stone that wasn't a paraiba, mahenge spinel or cobalt spinel. Last thing I need is another obsession
The setting was a diamond cluster ring I bought preloved from vickygigi on LT. From the start, my intent was to replace the center diamonds with colored stones. I wasn't sure what but felt the 3.7-4mm size would be perfect for adding something to my CS collection that I would not be able to afford in larger sizes.
Before: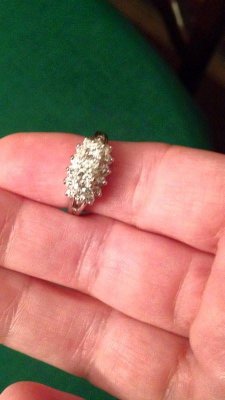 I have always been fascinated reading about Russian demantoids and their horestail inclusings...but never thought the color was for me. But after seeing OTL's killer demantoid ring and reading Yvonne's description of apple green demantoids she picked up in Tucson, I thought they might be a good option for my cluster setting.
So I sent the ring to Yvonne to see what she could find at JCK. I thought it was a bust when she told me "no luck" pm demantoids. Much to my surprise a day or so later, I get a message asking if "low heat" was okay followed by so-so pictures but noting "phenomenal stuff..top of the line". I do trust her eye on color so pulled the trigger.
I was thrilled as soon as I saw the pictures of them set and when the ring arrived, I was completely blown away. Pictures do NOT do these stones justice. The stones look like a top color emerald/tsavorite with fire of a diamond. Deep bright intense green. No yellow modifier although it may look that way in pictures for some reason (light dispersion?). When I sent a note to Yvonne that the end product is everything I wanted and more when I first purchased the setting, she responded "Yes...I knew I had this right! The color is INSANE". Yup, I agree...INSANE
After: