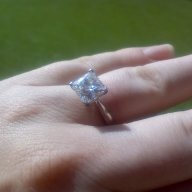 Joined

Dec 22, 2008
Messages

31
I recently purchased a 3 beautiful 3ct. princess cut ring from
WF
. This was about 3 months ago. I was waiting for my trip to Hawaii to propose which was last week. Everything went great. Well last night we went to the bar and got REALLY drunk celebrating with some friends and somehow my fiancee lost the ring. The ring fit really tight on her finger so falling off isn''t a possibilty. She had to have been loosely showing it off/around and somehow lost it.
It really is unreal as we were just so proud of it and now she is in shambles (me too). We called the police last night and they told us to call them back tomorrow (which is now today, which I am about to do) when we were sober. Does anybody know how insurance works on this? I did add it to my homeowners. I don''t want to lie to the police but I''m wondering if we say "I don''t know what happened, she just lost it while showing it around" if it''s not covered, as opposed to saying something like "she was showing it around and someone must of taken it". Like if loss/theft are 2 big different things. I really can''t imagine being out this amount of money and I can''t imagine the insurance company is going to be very quick to just cough up the money.
Thank you for any hep in advance.