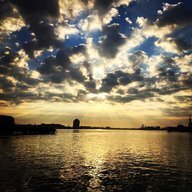 Joined

Mar 26, 2010
Messages

130
In 2018 I purchased a Chrome Tourmaline from Gene at Precision Gem. I don't have the paperwork in front of me of the specs, but it measures 7.90mm x 6.65mm.
I also have a pair of OEC studs that measure 4.25mm each.
Both of these items have just been sitting in the safe, unloved. My MIL is now retired, and her birthday is in Oct (Tourmaline birthstone). I'm in major purge mode at the moment, and talking to the Husband, we've decided to get a right hand ring made for her for Christmas.
I dived into my kids art supplies this morning and drew the below.
Random call outs about the drawing:
I drew this thinking the diamond studs were 3mm, then after the fact measured them, and they are in fact 4.25mm, so the drawing side stones are smaller than real life
I realized after the fact that I didn't have the side baskets touching the center basket wall I know in real life they will need to be connected
Side diamonds - I drew the drawing with three prongs, but thinking four will be better as this will give something to attach to the center basket, the prong will be partially hidden under the Tourmaline.
The design - 6 prong centered around the north and south of the Tourmaline, then 4 prong on the diamonds. All in buttery yellow gold. I love brushed/satin finish, but I'm reminding myself this isn't for me, but the MIL, and she is more of a traditionalist, so it will be polished. I'm also going for basic as I don't want to break the bank on the setting, but want something sturdy, utilitarian, and beautiful.
Feedback/Questions -
Input on the design
If there are major call outs, problems I'm not seeing
If anyone knows off the top of their head what angle (approximate) the side stones should be set at as well as how much I should try to tuck them under the Tourmaline
Should I just have the center stone set with 8 prongs?