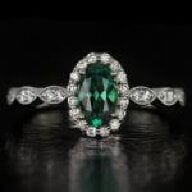 Joined

Apr 13, 2015
Messages

269
Some of you might remember that I ordered a DBTY bracelet from
IDJ
. It was a custom project - five 12point diamonds, 14k white gold, 6 inches long. I just got it today, and I am happy with the diamonds and the quality overall. However, I'm not in love with the placement of the diamonds. Two of them are placed extremely close to the clasp, which I don't love. Here's a picture: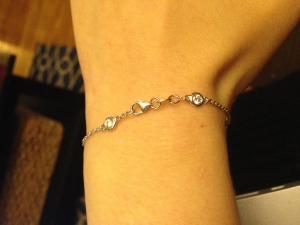 I made payment for the project on 1/20/15, which was a Wednesday, and was told that they would start working on it the following week. I never heard from them again until I got a FedEx notification on 2/4/15 that it was being sent out. This is my first time having a bracelet made, and I had assumed that I would receive some sort of communication or pictures to approve before it was sent out. If I had seen something beforehand, I would certainly have asked that those two diamonds not be placed so close to the clasp. In retrospect, I should have checked in on the status or confirmed that I would received pictures beforehand. I didn't check in because I didn't know what a reasonable timeframe was (I figured if it went longer than 2 weeks without hearing anything, I would check in), and I didn't want to be pushy or annoying. I didn't even think to ask to get pictures beforehand because I thought it was a given.
My question at this point is what, if anything, should I do? Should I contact
IDJ
and express that I don't like the placement of those two diamonds? Could anything even be done about that at this point, and if so, should I expect to pay more for it? Or, should I just leave it alone and deal with it? What would you do?