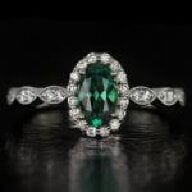 Joined

Apr 13, 2015
Messages

269
Sphene said:

If you love it cool - its just if I am paying money I want what I want and would ask again and again until I got it - complaining is just a habit I have had from birth lol
Lol! I actually agree with you - I absolutely think you should get what you want when you are paying for it! In this case though, it wasn't something that I even noticed at first and doesn't bother me enough to go back.
artdecolover71 said:

I think it looks great! a lobster clasp can sometimes be a small extra expense so some jewelers don't use unless you ask. It is lovely. any ring updates?
Thank you ArtDecolLover! The ring, hopefully, will be done today, and if it keeps to that timeline, I should have it in hand by next week.

I'm keeping my fingers crossed for an update/pictures today...trying to be patient, but it's so hard!