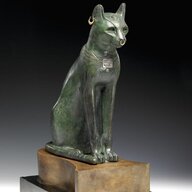 Joined

May 23, 2016
Messages

636
Hi,
I've had this for a few weeks now and thought I should finally post some pics!
I've wanted a daily-wear RHR for a while and decided a 7 stone would suit what I wanted best. I originally contacted Yoram about French cut stones but changed my mind to Peruzzis at the last minute, and he was very helpful in making the change.
The stones are 3mm and I love the setting Caysie made - I get to see a lot of the stones from the side and in profile, but the delicate baskets give them a little bit more protection than a u-prong would (and give me a bit of psychological protection from worrying about clunking the stones on something!).
I love the 3mm width - it's perfect for me for daily wear, and I asked Caysie to set the stones low so it's very wearable and comfortable.
I'm still a little torn on the stones though, which I think is why I havn't posted before now. I love them in profile and when viewing at a slant. The high crowns are amazing - the 'sculptural' term Yoram uses is very fitting. And the fire can be amazing in the right light.
I don't, however, enjoy the stones as much as I'd hoped when viewing straight down. From macro pics of these and his French cuts, I was hoping for some broader, gentle flashes, but I find them very busy when viewed straight on (although they are growing on me). I appreciate they're only 3mm stones, but I have smaller stones in a French cut and round half eternity and can easily enjoy the facets in the French cuts in the right lighting. I find I can't really see the facets in these at all, even though they're larger (and I'm really short-sighted without my contact lenses, so have natural loupe vision!). On the positive, it makes the ring very lively, with tons of scintillation. I was just aiming for something a little calmer.
@OoohShiny
- I know you posted a few weeks ago about what size stone you need to appreciate faceting. If we manage a UK get-together, I'll make sure to wear this so you can see the Peruzzis at 3mm size. I think you'd need significantly larger to appreciate it in this particular cut, which is contrary to what I posted in your original thread based on my other bands! Although, as I said above, I can absolutely see the gorgeous high crowns in side view at arm's length, and very much enjoy that aspect of them (and they're set off amazingly by the gorgeous swoopy baskets by Caysie). Price-wise, BG 4mm ideal cut rounds seem a similar range, so a big size difference for the price. I guess that's the big disadvantage for those of us in the UK - we can't see stones easily in real life. Yoram was good and offered to exchange for me, but it's too difficult and expensive from here, plus I'm sure I'd end up paying customs again on the exchange!
As I say though, the straight-on view is growing on me. It's just different to what I expected based on macro pics.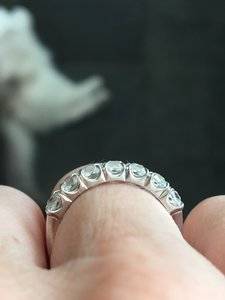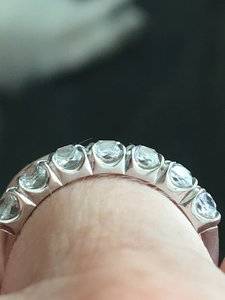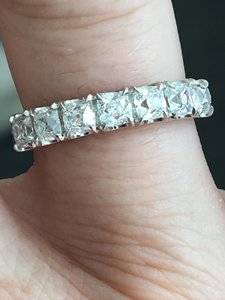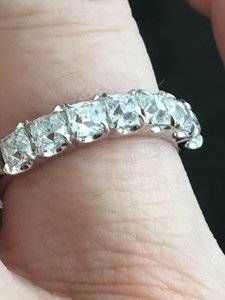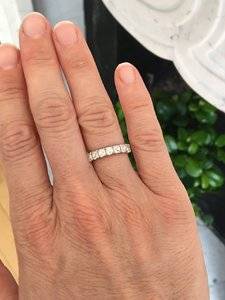 (Sorry for the furry fingers in the close-ups...)