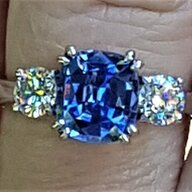 Joined

Apr 5, 2012
Messages

491
Hi all
I spent a very long time searching for a fancy cut diamond that would fit my extensive list of criteria

I wanted something square or rectangular with a very distinctive and defined symmetrical facet pattern, with contrast evenly distributed across the stone. I wanted excellent light performance with a leaning towards maximising the diamonds' colored fire. I also wanted the stone to face up a good size for its carat weight, without sacrificing anything in light performance. I was determined to ensure that the stone would have no nasty surprises when viewed in less favourable lighting - tilt windows, dull areas etc. I also wanted a diamond that wouldn't have its performance impaired the minute it attracted the lightest amount of dust or finger grease, as I wanted it to be practical to wear without having to clean it daily. Most jewellers I spoke to advised me that this combination of attributes was unlikely to be found in a fancy cut,

but I was convinced that my perfect diamond was out there somewhere......
Along the way I looked at many loose fancy cut diamonds in person, and purchased and returned a couple as well. Amongst the diamonds that came close were: a high performing asscher which was beautiful apart from a thin grey "window frame" of leakage under the table visible in very low lighting, a step cushion with a stunning facet pattern and lovely fire but leakage under the table as soon as it was titled even slightly off axis, and a couple of criss-cut type designs with beautiful facet patterns but obvious light leakage under the table and insufficient fire. I toyed with the idea of an AVC, but I wanted something a little more scintillation.
I eventually realised that for minumum light leakage a shape with square rather than elongated proportions was going to work best. I also realised that some kind of brilliant cut would address my light performance and spread concerns as well as my desire to have a diamond that would not need daily cleaning to still look good.
As the diamond was for a right hand ring, I didnt want anything too large and showy, but it still needed to be large enough to be able to appreciate the facet pattern and the colored light return.
So eventually after a long search and a few of false starts along the way I found this unbranded "ideal hearts & arrows" square radiant diamond. It is the same design as the "princess of hearts" brand. It is GIA certified but there is no inscription. I found it on the B2Cjewels website.
Vendor pic: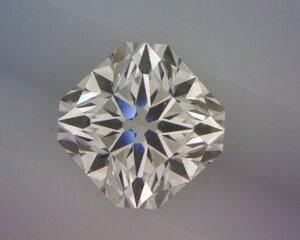 ASET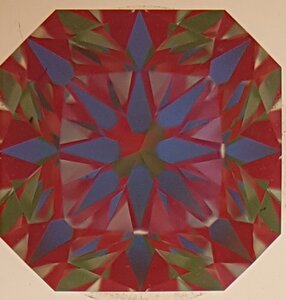 In its box: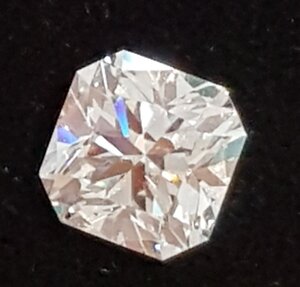 In partial sunlight in my garden: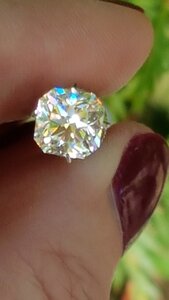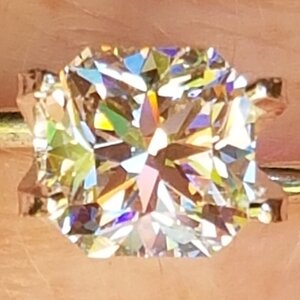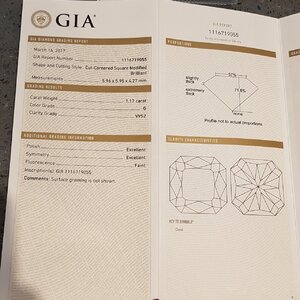 Here are the links to my previous posts about the loose diamond search and then the setting design:
Hi all I have been searching for a fancy cut with optimum light performance for quite a while as the centre piece for a RHR. I am drawn to octagonal shapes (plus squarish cushions) and, after flirting with the idea of an asscher for some time, and then a step cut square cushion, I realised...
So I'm trying to decide on a setting for my new H&A square radiant. Its a GIA G colour with masses of fire and brilliance, and just under 6mm x 6mm. I want to maximise finger coverage but I don't want to bezel it or have a diamond halo either. I still want the centre diamond to be the star...
And finally - in its 18k rose gold split shank setting with platinum head and double prongs: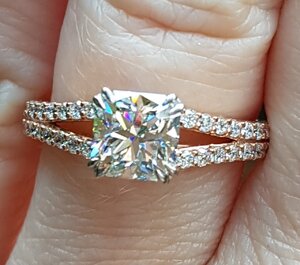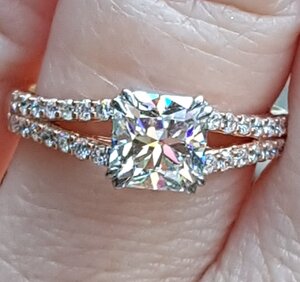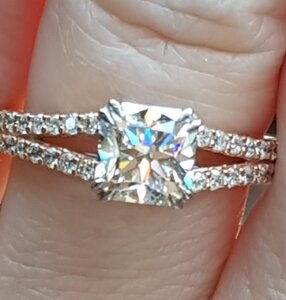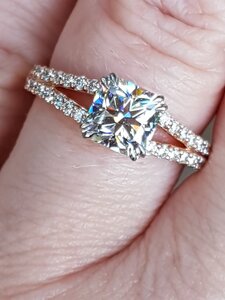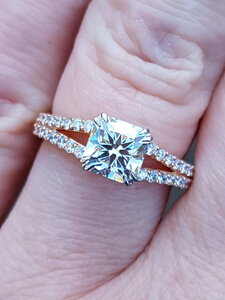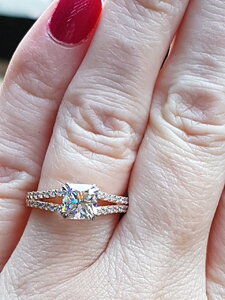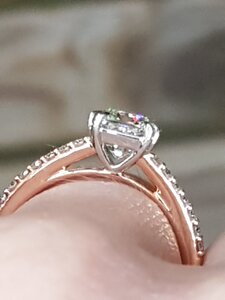 Last edited: