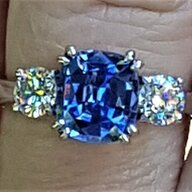 Joined

Apr 5, 2012
Messages

471
So I'm trying to decide on a setting for my new H&A square radiant.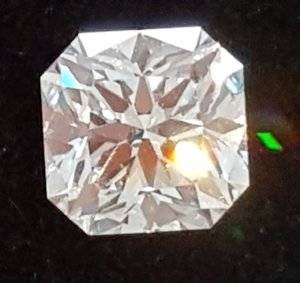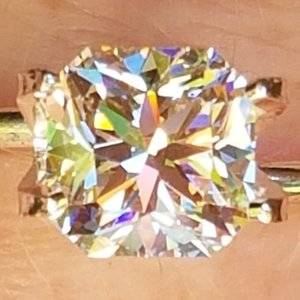 Its a GIA G colour with masses of fire and brilliance, and just under 6mm x 6mm.
I want to maximise finger coverage but I don't want to bezel it or have a diamond halo either. I still want the centre diamond to be the star of the show. I also want to emphasize the cut cornered square shape. I would really like a rose gold band but I'd prefer the prongs to be white gold. So there's quite a few criteria, some of which are probably conflicting
Its for a RHR and I'd prefer it not look too much like an engagement ring. So probably not a total solitaire. I like art deco angular designs so might end up with a 3 or 5 stone with baguettes of some sort, or to be completely different, a split shank with pave.
I've just got back from trying the stone out in a few different semi-mounts to narrow down what I like. My stone probably looks a bit hazy in some of the pics due to fingerprints and also being sat on a large blob of blue-tac in some of the pics to keep the diamond in place in the mounts
I was really drawn to this type of setting (below) because of the art deco type look and the fact that I think it plays up to the square shape of my stone: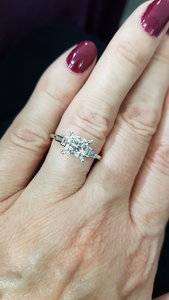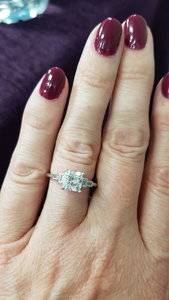 The problem is that the baguettes end up being so small in order to get the right proportions with the centre diamond and with them being bezel set they ended up looking a bit flat next to the centre diamond - this next picture captures the "flat" look IRL: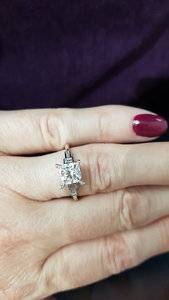 Also the shank ended up being thinner than I prefer (in order that it would step down in size from the outer baguettes). I'm not sure how this kind of setting could be improved enough to get the side stones to pop a bit more, given their small size. I don't think claws would work for the baguettes??? And I'm not sure they could be any bigger without messing up the proportions with my centre diamond
Then there were options with double or single tapered baguettes: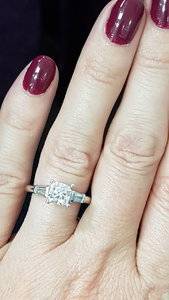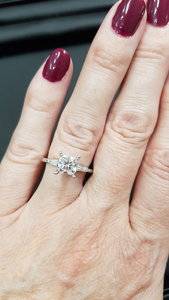 I liked them both, but I'm not sure either of them gave me the wow factor. But maybe I just didnt get to find a setting with the perfect shape and proportions of tapered baguettes.
Then there's this split shank rose gold option. I would change out the basket and prongs for white gold though, which I think would complement the diamond better: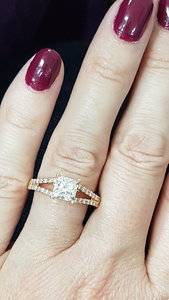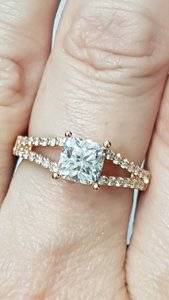 I kept coming back to this one again and again, its so different to any of my other rings and I loved the rose gold with the pave. The whole ring gave great finger coverage, but I couldn't decide if it made my centre diamond look smaller than the other settings did. Also I'm not sure if it emphasises the square shape of the diamond - does it look slightly cushion shaped in these shots? That could be the effect of the placement of the rose gold prongs though. The jeweller did say that he would use white metal prongs filed on the outside to an angle to match the cut corners rather than rounded prongs like in the photo. But more like eagle claw prongs rather than tab prongs.
Maybe it looks a bit more square in this picture ??? :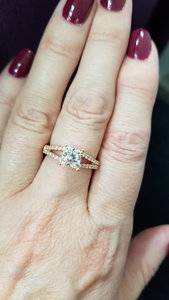 I would love to hear thoughts on the current options, and any suggestions for other ways to set it which would meet the criteria I posted above.