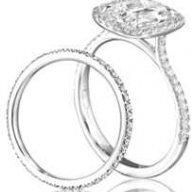 Joined

Jan 27, 2009
Messages

16
Hi all! I''m looking for a cushion cut diamond and want to see if my specs I''m looking for are realistic. I appreciate any comments!!
1ct+ (I care more about the length/width size than the carat!)
dimensions around 7.5 x 5.5 x 3.5
ratio: around 1.3
Clarity: SI1 (no eye visible inclusions)
Color: Colorless (D, E, F)
Cut: Excellent/Ideal
Cutlet: small or none
Fluorescence: (I haven''t yet seen a colorless stone with fluorescence in person, but if I wouldn''t be able to tell, then I don''t mind it!)
Stone Budget: $5000
I''m looking for a cushion brillant, not a modern cushion brillant.
Sidenote:
I would love a Henri Daussi cushion! If anyone knows what this branded cut would go for in or around my specs, I''d appreciate the input!!! I recently saw a Daussi cushion: 1.26, H, SI1 with no visible inclusions, with about the same dimensions as above for $8500 with the setting (which was around $3100). So, $5400 for the stone. I loved the stone except for the color though! It was too yellow for my taste.
Can''t wait to see what everyone has to say!! Thanks!!!