Joined

Jul 28, 2013
Messages

856
There are some twists and turns as to how this whole piece came about so feel free to skip to the pics!
There is an antique ring that has lived in the "ring inspo" folder in my phone for 8 years. That ring is actually the one that lead me to create the folder in the first place and the first pic was screenshot in July of 2014 according to my iPhone.
Since then, there have been many life changes both personally and professionally. In the beginning of 2022, I started thinking more seriously about getting this ring finally made as a RHR. It involved an OMC as the center stone so I started looking for an OMC around 8mm. I thought I had found it when I bought a beautiful OMC (2.81 ct GIA N) from Alex Park. Once I had the diamond in hand, I started having second thoughts about the setting. I think sometimes, especially with old cuts, the stone dictates the setting. While I didn't mind the warmth of this OMC per se (it throws out all kinds of romantic pastels), it felt too warm for the setting I had in mind and its faceting almost too neat. The inspo setting I had in mind required bezeling the center stone and this particular stone screamed out for prongs to me. I needed a touch whiter and more rustic (perhaps one with a bigger culet with more prominent kozibe) OMC for the original setting. I still loved its brightness, the squarish pillowy shape, the chunky crown and the crispness of the faceting so I decided to keep it and figure out a different setting for it.
So then came the dilemma. I didn't want a solitaire as this will be a RHR and I have SO many inspo rings in my trusty folder and wanted so many different rings, I couldn't make up my mind!
- Do I want a 3 stone? I've always wanted one!
- A heart shaped cluster? It would be perfect for the romantic feel of this stone but perhaps too much for something I intend to wear almost daily?
- Something with pearls? Pearls would be a great complement to the warm pastel tones of this OMC but once again, perhaps not great for daily wear.
Then a lightbulb went off and I remembered that Caysie of CVB ID had come up with the brilliant idea of halo clips a few years back. Why choose one when I can have all 3 with halo clips!?! I had reached out to her for a quote on the original setting so I contacted her again to see if she was still making the clips. She replied, "Absolutely I'm creating the halo clips. What do you have in mind?"
I summarized my ideas with inspo pics and sent it to her like so: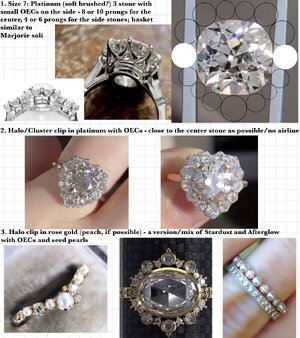 I also sent her a pic of an antique starburst diamond/pearl brooch I had and asked if the stones and the pearls can be repurposed for #3. She said her bench would have to take a look first but that she would try.
That very day, I sent off the OMC and the brooch to Caysie and got in queue for her design process.