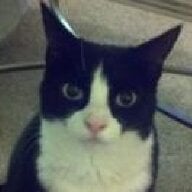 Joined

Aug 8, 2005
Messages

40,225
Okay so, I'm sure most of you have mothers like my mother in law: sweet, well meaning, with irksome qualities, but overall very genuinely and unselfishly loving. My mom has, on rare occasion, been like that. Unfortunately though she had a hard time in her youth and she's very much a classic narcissist who gets more self absorbed and less empathic as she gets older, plus she's the family matriarch, and it can be hard to be her daughter. We have a very rocky relationship... and it gets worse as we both grow older.
Why I went to law school is a boring story. But a lot of it had to go with wanting to please my mom. I should never have gone to law school and I VERY MUCH should have listened to MYSELF, my friends, other family members who have never been able to outshout my mother, and my professors and done something else. But I didn't. When I graduated it was the happiest day of her life. My diploma has never hung on my wall, always on hers, by my choice.
For my graduation present my mom got me a Persian rug. It's very expensive. My mom got it for me over my own VOCIFEROUS objections that I while appreciate them from an artistic standpoint, that they aren't my style, that with my desire for cats (I didn't have any then) it didn't suit my lifestyle, that I would inherit 20 of the things eventually (that I didn't want) as it was, and that I REALLY WANTED A FLIPPING OMEGA WATCH (that cost half what she paid for a rug).
It's what she wanted to get me so it's what I got. Pretty much the story of my life and the story of mom's gift giving style. At the mall when I was a teen and if wanted a 10 dollar thing that she didn't like and she'd say no, but turn around and buy me a 100 thing she thought I should have that I was lukewarm about at best. And I'd feel resentful and ungrateful at the same time.
This is turning into a novel. I tried the rug out for a year. The cats LOVED IT. Not in a good way. It doesn't suit my decorating style. It's been in storage since then. I'm never going to have a room I would be willing to close out to my cats for it. And it represents a lot of negative things to me. And I told my mom this weekend that I wanted to sell it and BUY A NICE WATCH. She was hurt. And it matters to part of me that she was hurt. But the rug reminds me of the negative qualities she has and of a time of my life that I would give A LOT to to change-- and that (right or wrong) I blame her for a large part of. And it reminds me that her love for me has often been on her terms.
SO... I know it's a bigger question than the rug (and I'm in therapy
and I'll deal with ALL OF IT there ). But the rug is a problem that's not going away. Any of you have thoughts, opinions, advice on what to do
with the rug
?