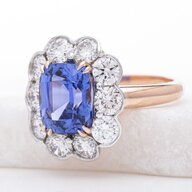 Joined

Jan 9, 2006
Messages

5,821
I'm suuuuper excited. I've never been a crazy coloured stone person, but have been hankering for a rich blue sapphire for a while now. I was planning on a small pair as studs to get me started, but a large natural sapphire is well out of reach. I've been umming and ahhing about a lab cut stone, but was unsure about who to go with, what colour, flame fusion vs hydrothermal, etc etc. However I felt a tad weak at the knees when I say the pictures of
@dk168
's asscher beauty that Gary recently cut
I emailed him and happily he still has more rough, and them I began to waffle over what shape to get. I wanted an elongated shape like cushion, emerald or oval. He was so lovely and patient with me. I couldn't decide until he showed me a picture of his beautiful mixed-cut cushions, and I was sold! He is starting on is this week, and hopefully I will have pics soon.
Thank you for posting your pics
@dk168
, otherwise I'd still be in waffle territory!
Last edited: