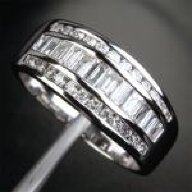 Joined

Oct 13, 2011
Messages

104
Hi.
I got 3 Chameleon Diamonds (not yet GIA certified), but have seen Chameleons before so I'm 100% sure.
Lets say GIA would rate all 3 diamonds to I2-I3 with Fair polish & Fair symmetry - what about value?
The clarity is of course not optional, but would Chameleons be interesting for collectors whatsoever?
0.44 carat Pear - Greenish-Yellow to Vivid Orange
2.11 carat Pear - Greenish-Gray to Intense Orange
3.10 carat Square - Greenish-Yellow to Intense Orange
At the pictures you can see 100% Original color - not enhanced in any way!
But they has a better clarity than shown in the pictures, zoomed at 60x to 100x - I do remove brilliance so the clarity shows up better.
The video camera (capturing) is for some reason off limit when it comes to colors - even if it's capturing in Full HD 1080p...
Maybe some settings only, but cant figure it out; Logitech HD Pro Webcam 910C.
All 3 diamonds has same intensity in color change as pictured.
But shows best for the 2.11 carat Pear in the middle in the video- because the incandescent lamp is headed right over it and at same time heating it - as it heats up, you can see its getting deeper and deeper orange!
When the red glass shows up, it's because I use an UV-lamp with a wave-length over 3000 nm/cm2!
Without the red glass in front, the camera goes blind and so do I.
**edited by moderator. please do not post links to personal videos**