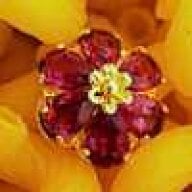 Joined

Dec 28, 2008
Messages

3,820
So after having my new ring for only 3 weeks, I'd begun to notice the top part/halo going grey. I didn't think it was the rhodium wearing off (which shouldn't really wear off on the top anyway) since the metal didn't look yellow. It just looked steely, grey, and dingy; kind of like someone melted down a dinner fork to cast my ring. My usual jeweler is very nice and always tries to accommodate me and make me happy, but his craftsmanship is not always up to my exacting, PS standards. I know that he will not remove the old layer of rhodium before replating, and I've always thought his polishing was a bit hasty - he's nice, but there are limits to what he can do well.

I called Quest Jewelers today which, happily, is only a 20min drive away. After a thorough examination, we agreed that the ring will undergo an extensive cleaning, the excess solder (used to attach the prongs, and it pooled onto the top surface) will be removed, new prongs will be attached (and all the same size, not 2 larger and 2 smaller like now), and the entire ring will be prepared for a new rhodium plating. They will also do what they can to improve the sloppy milgrain. I know a lot of PSers have talked about Pete, but I spoke with Hap and was very impressed. I'm very excited about the refurbishing, and it shouldn't take more than a week.

I know this thread is worthless and boring without pics, so let me post a few.