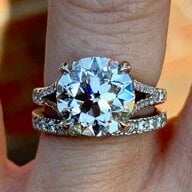 Joined

Jan 20, 2013
Messages

137
I have caught the OEC bug thanks to pricescope!

I am seriously considering a newly cut OEC right now. It is just shy of 8mm. It is larger than my current stone (a 6.95mm square cushion), but not as large as where I think want to end up (8.5 mm would be awesome). I am trying to decide if I should talk myself out of it or keep it to 'get in the game' knowing I would likely upgrade it if the right (larger) stone came along later. Inventory just doesn't pop up like it does for MRBs. It checks all the boxes otherwise. Also, FYI my ring size is 3.75.

I would probably get DK to set it is a plainish setting so I wouldn't have too much invested in the setting right now.

I am looking to buy a newly cut OEC with an upgrade policy so upgrading wouldn't be difficult from that aspect.

Has anyone done that? I know I've read about people buying temporary settings to save for more elaborate ones later and I know people often end up upgrading from DSS but I feel like that isn't always how the intention started.