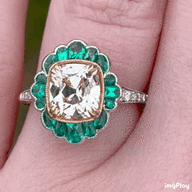 Joined

Jan 29, 2012
Messages

3,525
I don't know if I will manage to snatch that emerald. I'm partially staying disciplined by telling myself that I'll only but it if it's 20% off. If I do get it, I'll likely grab some yellow diamond melee, too, so I hope no PSer was going to go for those. If I get the emerald, I will want to set it in a yellow diamond scalloped halo. Hope we don't step on each other's toes. I can gladly let other PSers have the gems if we have discussed it beforehand.
What are you doing? You can't be sweet like that. You need to be SAVAGE!!! You go after that emerald with all you've got. You check out your cart the second that 20% shows up and congratulate yourself on being the fasted hand in the West.

All joking aside, I love the idea of that emerald being paired with the yellow diamond melee. I thought about it myself.
I kinda hope you do it now.