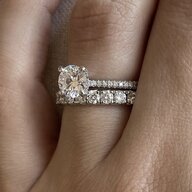 Joined

Jan 29, 2022
Messages

19
hello there! I'm hoping for some general advice - I'm considering buying myself a cartier watch as a gift to myself for a recent promotion. I always thought I wanted a two toned tank francaise (I wear a lot of gold rings and earrings), but also tried on the panthere and now can't decide. I feel the panthere is more feminine, which I love, and I love the way the links feel. The tank francaise has a beautifully muted watch face, especially compared to the brighter white face of the panthere. And would it wear better over time, with the brushed stainless steel?
I wasn't able to try on the two toned tank francaise nor the stainless steel panthere, which is adding to my uncertainty. I'd likely get the panthere in SS rather than two toned, for some reason I prefer it. And having tried on the SS Francaise, rather than the two toned, I found I rather liked it.
The two things I am sure of are that I'd get either watch in size small, and that the all gold versions cost more than I'm willing to spend. I think need to make another appointment to try them on again, but figured I'd consult the forum in the meantime.
Any thoughts? Do any of you own either one, or both, and could let me know what you do (and maybe don't) love about them? How about mixing metals between watches and other jewelry?
This will be my everyday watch and quite the upgrade from my current skagen, so I want to be sure before making the purchase