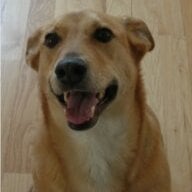 Joined

Mar 26, 2006
Messages

14,844
As many of you know I got my new setting a few days ago. Despite my best attempt to communicate to Kelege exactly what I wanted, I have ended up with what I was afraid of all along: Empty Corner Syndrome.

Here is a picture of what I''m talking about. As you can see the inside of the halo is bigger than the diamond and, except for where the prongs are, the corners are "empty." I''m looking for ideas of what can be done to fix this problem because when I took it back to the jeweler yesterday he wasn''t too confident that they were a solution so I''m hoping that the creativity on this board will take over and a reasonable option can be suggested to Kelege next week when they get back from vacation.
My two ideas as this point are bigger, double prongs that would fill in the corners (but I don''t want to end up with Monster Prong Syndrome either, LOL!) or to somehow "rim" the inside of the halo with another row of metal that would take up some space. Neither of these sound fabulous to me, but if anyone can either render these ideas in photoshop or suggest some other different solutions I would MUCH appreciate it.