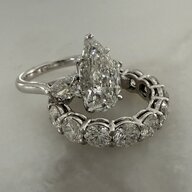 Joined

Jun 9, 2010
Messages

836
Hey Missy!

Firstly, I just LOVE your OEC, and was wondering if you would be willing to share "Bea's" measurements? I have scoured your posts and can't find them?!

I am in communication with Adam, and will be having him hunt down a few OEC's and maybe a few OMB to take a look at. Like you, I will need to trade in my current diamond, but his Trade is fair, and I'm pleased… I am looking at a 4 carat range and was just curious, your fingers look very slender as well, I am a 4.25.

Thank you so much!!!