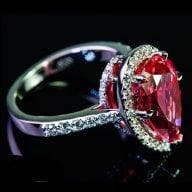 Joined

Apr 22, 2004
Messages

38,323
Okay, so I picked up my new 0.88ct J VS1 Transition cut (which I still claim is an OEC) this morning after sneaking quietly out of the office. You can read about the stone here:
Need IS Opinion
First impressions? I was stunned by how white it is. I would never have guessed a J. It also reflected lots of chunky blues and greens in indirect sunlight. It''s not a sunny day today, perhaps a slight overcast.
The diamond shows a hint of warmth next to my E emerald cut in the office, but is a pleasing colour. My E is icy white, the J is "soft" white. It seems that the best view for this puppy is from far away (at least 1 foot away), even in fluorescent lighting. Nice large blocks of golds, greens, blues shouting at me. The VS1 is as clean as can be. I love the side close up view.

The high crown, huge facets...
What "bothers" me is the close-up view from top down a few inches away. The culet is kinda small for my taste but I can live with it. It''s the table. I think it is a smidge too large and when I look straight down the table (up close), I can see the blocky "flower" pattern. Am I making sense? I suppose in the modern RB, I would be seeing the arrow shafts instead. The flower pattern is pretty and I like it but I wish it were smaller so I can see the chunkiness of the crown facets. Am I just being silly because I can see this organized symmetrical pattern way up close from the top down? Everything else about this J is a winner. If I move just an inch or two further away, I don''t see it, all I see are blocks of colours in my eyes. Is this the "head obstruction" everyone is talking about here in RBs?
At the same time, I don''t want to part with this OEC because well cut OECs aren''t a dime a dozen either. I''d like opinions and comments even from non-experts here at Pricescope. In the meantime, I''ve been scouting as many blown-up pictures of OECs of various sizes to compare the looks all over the WWW. There are tons out there that are terrible and only a few that are drop dead gorgeous (in my humble, unexpert opinion). I''ve also just finished going through the Show Me Your Antique Cuts folder. I see the same thing on some of the stones there but not quite as obvious as mine. So, am I just too eagle eyed and picky? Is this the expected look, is it the head obstruction thing, is the table a tad too large or am I imagining things?
Please help me ease my mind.