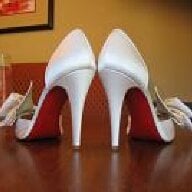 Joined

Nov 13, 2007
Messages

5,720
Well, here we are again, one month later...

How is everyone doing??

I''m back to the weight I was for my last fitting (134). March wasn''t a good one for healthy lifestyle choices, but I am turning it around this month. FI and I already decided to cut out beer during the week, other than the occassional horrible day. I have my second fitting on April 18, so I have to fit my dress by then, my Bridal Shower on May 2 that I still need a dress for, and then I''ve scheduled my Bridals for May 11.

I''m less than 4 months out, and it feels like everything is really going to start stockpiling, so should really sit down and make a workout schedule.