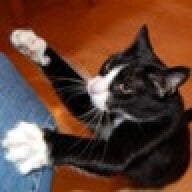 Joined

May 6, 2005
Messages

2,991
Date: 1/11/2007 10:18:46 AM
Author: DBM

Now i think everyone would agree that relatively quickly within say 10 yrs everything would be gone, no? all the online, all the B&M, probably alot of sightholders.. NOW the questions I''m asking (and these are THE ONLY QUESTIONS I''m ASKING): My choosing to spend all my money in this idiotic fashion and simulataneously destroy the industry: how would you look at me as a person? a good person? bad person? or neither, i have the right but i''m just stupid (which i think is the answer most of you are positioned at, which is what makes me sad).
I can''t agree that everything would be gone. Diamonds aren''t consumables, they''d still be around just owned by someone different. Either jewelers would be buying up all these really cheap stones and sitting on them until the guy used up all his money or the diamond supply dried up and then sell them at a decent profit. If they guy wasn''t selling to jewelers, then they''d shift their focus to really detailed craftmanship and charge through the nose to set the diamonds.
In any case, I think to destroy something just because you can is a bad thing.