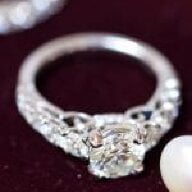 Joined

Aug 8, 2016
Messages

84
I am posting from my phone out of excitement and want to first and foremost thank every PS'er that helped and contributed along the way, as well as those who may have no idea who I am but contributed such a wealth of information to PS that I am just as grateful for your time and effort. I am sure I will have to edit this to add names but AC, who found my new stone, you have a place in my heart and on my hand forever
Mrs. B for all of your suggestions and gorgeous ref pics, Diamondseeker, Queenie, pintobean for your invaluable analysis and advice on the number of choices and msop, teobdl and blue lotus for helping narrow down the choice to the winning stone:
2.62 I VS1
8.94 x 8.99 x 5.38 mm
58, 60, 33.5, 40.8
Set in my original Gabriel setting by the most thoughtful and candid jeweler I've ever come across - and thank you again PS for referring me to - Yekutiel at
IDJ
. He made a miracle happen and with a turn around that left me shocked (of course in the best way!) to have to return so quickly! Run, don't walk, to
IDJ
the next time you have some shopping to do
So here is the before of the new stone and final product, regular phone pics until I figure out how to do anything fancier...