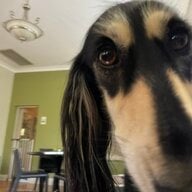 Joined

Jan 22, 2014
Messages

5,822
Here is my list, updated for 2021. I probably won't get around to it all in one year though:

1) work on pearl collection- condense, re-string, upgrades, etc.

2) sell or give away other jewelry that I no longer wear

3) small Tahitian stud earrings

4) silver and cz tennis necklace

5) silver and cz special occasion dangle earrings

6) lab diamond, moissanite or cz stud earrings in non-flimsy wg prong setting, 2-2.5 ctw

7) lab diamond, moissanite or cz stud earrings in non-flimsy yg halo setting, 2ctw

8 ) new setting for e-ring, with larger v-prongs and in smaller ring size

9) one complete ring, or two nice stones (mined or lab) to be set as funds allow

10) costume, sterling or cz "fun" jewelry

11) possibly have diamond set into bangle bracelet this year

12) jewelry box/es

13) new safe

14) new safety deposit box

15) Upgrade shield ring w better diamonds
My list for 2021 is bridged from 2020 as I left it so long.
in the works
The sapphire set into the diamond Ballerina setting.
The iolite bar brooch put onto/ into a necklace.
A Moissanite ring and diamond ring guard sized so I can wear them.
A yellow sapphire ring resized so I can wear it.
to follow (so far)
Putting the white sapphire in the Blue sapphires mount, if it fits.
swapping gold watch bracelets over on 2 vintage watches.
Thanks for reminding me I have silver CZ stuff to list on Loupe Troop