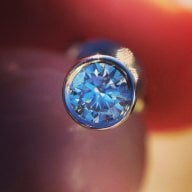 Joined

Jul 7, 2004
Messages

10,835
Most of the long term PS folks know that I am a neurotic headcase and that I carry a 30x loupe and
all that jazz. You will all be pleased to know that I only a few times a week after cleanings (OR after a
whack), and I wear them almost every single day, obviously not to sleep, shower, cook, work hard or
whatever…but I have mellowed. A bit.
If you have not seen this thread, here is a refresher, sorta, on my bling. (many thanks to Tacori, btw!)
[URL='https://www.pricescope.com/community/threads/my-friends-upgrade-from-gog.127588/']https://www.pricescope.com/community/threads/my-friends-upgrade-from-gog.127588/
[/URL]
The short version is that my rings got stolen along with my purse almost exactly two years ago, at the
gym because I am a gigantic airhead. I had my massive meltdown on the gym parking lot, and in the
police car they let me sit in to call insurance and all that in since it was air conditioned, but with all
the drama surrounding them, it was probably good that that karma was taken away. I do miss that
diamond…so ... much. I have yet to track it down though at any pawn shops. So I hope it's new owner
loves it.
My insurance helped me replace it with a slightly bigger and better Star129 (I got the 1.13 discussed in
that thread and returned it, and passed on the 1.18 that is also mentioned), which is now set in a Vatche
Royal Crown. I have to thank David Kodner here in STL for his help with the Vatche. He really helped with the ordeal that became of it, and Mr. Vatche himself made it. I had a Signed Pieces Raphael band
that I also repurchased a replacement of after the theft, and recently had it reset, though after a few
attempts, it still wasn't quite what I was looking for, mostly bec the stones in the raphael were just too
big to me (5pts ea) and took too much away from the solitaire for my liking. So David Kodner and I worked
out a trade for a Martin Flyer band that was much thinner with 1.5pt stones.
So...that's a lot of hot air I just blew out, and I know you all just want pics! And I noticed when lurking
that there is or was a poster recently who also had a Star from
GOG
, and I hope she (I assume it was a
she?) comes back again to show it off more. I think the specs were similar to mine.
Specs:
1.15 H VS1 Star129 stone, purchased from
GOG
set in a Platinum Vatche Royal Crown, handmade by Mr.
Vatche himself (no, seriously! I haz the proof!). Width is 2.3mm.
OLD BAND is my facets diamonds 5pts each, 10 stones, set in plat. I traded that for the
NEW BAND (as of today!) is a Martin Flyer micropave band, 1.9mm wide, with 15 1.5pt stones
Plain band is 2mm (I think it's actually 2.1) Stuller, the only remaining item from
WF
that I own.
Here is a pic of all three (ering, old band, plain band):
And just the ering and the old band. You can see here that it was a little too big in width AND in size.
Last one with hte old band: