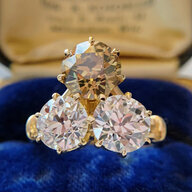 Joined

Jul 23, 2012
Messages

19,691
girlyglam|1452094850|3971625 said:

Just got confirmation that the diamond has arrived!!!

I can't wait to see it when I get home!!!

I reached out to

GOG

about the Beverley K setting, but I was told that the amount of changes I want is really more than just a modification. They are going to get a quote for me from a designer they do a lot of their custom work with. I also reached out to MDZ for a quote since I've worked with them before and had a good experience. At this point, I'm really not sure exactly what I want to do for the shank or gallery, and I'm not quite sure if I want to do larger square sapphires or sapphires in that "petal" design at north, south, east, west. I think I'd be happy with either, but would love artistic input. Given that uncertainty, do you think it's worth reaching out to DK for a quote as well? I'm hesitant since it seems that working with him requires you to know exactly what you want, but I do think his work is beautiful. I've also considered reaching out to Julia B on etsy... Is there anyone else I should be considering?
Absolutely get a quite from dk. Never hurts and he is super helpful and easy to work with even . it might be best if we got a few photos to show him, and you said "my budget is ****, here's what I'm after, can this be done in 14k gold size x? "
That way will require a bit of adjustment to the cads, but we can cross that bridge when we get there if need be.