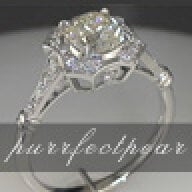 Joined

Mar 31, 2008
Messages

4,079
I totally agree that from my perspective it''s hard to say that one old cut is superior to another old cut, yet that''s exactly what some vendors are implying here. That their diamond is worth more than comparable specs. If both old mine cuts are equally acceptable, then the lower priced stone with a generous return/evaluation period is a superior buy, or put another way, a superior value.

I''ve heard condition mentioned. Fair enough. I''ve personally never run into an old cut with flea bites, chips, or condition issues at OWD. I have seen some with issues advertised at other vendors online.

So for me, condition issues are a no sale (other than eBay - dirt cheap) because I don''t have to accept them. There are plenty without condition problems.

Other than that, some can be too shallow (you''ll know it when you see a 3 carat diamond selling for $9K and depth that belongs on a 2 ct. diamond), and some are way deep. I remember EricaGrace had one that was very deep, they referred to it as a "ring pop". I thought it was really pretty and the depth in that case did not seem to be a detriment. Generally on an old cut, I would avoid excessive depth from a face up diameter perspective, not necessarily to eliminate it due to performance.

Off center culets are subjective. How much off center, ya know? What I do see a lot on antique cushions especially is not so much that they''re off center, but that the culet is not symmetrical (doesn''t bother me at all).

As to costs being higher at one place vs. another and the fact that you won''t find the same exact diamond elsewhere, what can I say? Deal with a vendor who has hundreds instead of less than a dozen. You are more likely to find at least one that speaks to you and probably at less cost.

I''ve never met Adam face to face, I don''t get any discount, and I don''t know how he does - what he does - at the price he does it...all I know is he does it well, apparently able to overcome all the obstacles that other vendors have posted as cost drivers.