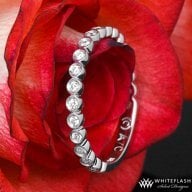 Joined

Nov 12, 2007
Messages

2,567
Re: Backwards: Help me find an e-ring to match my wedding ba
pearaffair|1434652300|3890971 said:

rubybeth said:

One other thing to consider if you'll be soldering the two rings together is the sizing. Depending on the width of the two rings together, you will probably need to size up a bit on either or both of them because it will be more difficult to get a wide set over your knuckle. This is one reason I didn't solder my rings (I need them sized pretty small so they don't spin while still being able to get them over my chunkier knuckles), and because I knew I wanted to have options for stacking with different rings and wear my band on its own sometimes (like when traveling). I also knew I wanted to upgrade someday.

My wedding band is probably 1/4 size too loose right now... Which is good, then, yes?
That should help, yes. You could try putting on two rings at the same time (maybe twisty tie them together?) about the same width to see if that will work.