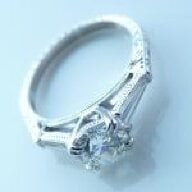 Joined

Feb 25, 2014
Messages

560
(
I got a little wordy, and a little personal in this, so if that is not your bag please feel free to skip down to the "just the ring" part.
)
Over the past months of PS lurking I have learned so much, and I have surprised myself with my changing attitudes. I was firmly in the camp of "meh, what's the point?" when it came to gems and jewellery; very pretty, too expensive, not my thing. I had a 1/3 carat engagement ring, bought when we were young and poor, which I wore every day and never thought twice about. It was a symbol of a very happy marriage, and I had a vague sentimental attachment to it as such, but that was about it.
Fast forward 17 yrs, and the very happy marriage sailed into deep and troubled waters. My H experienced neurological issues that changed the nature of who he is/was. Over the past couple of years I have been slowly and heartrendingly coming to terms with the fact that the man I loved intensely, and the marriage I was so proud of and secure in, are forever changed. There was a lot of confusion and hurt as our lives as we knew them fell apart, and during the turmoil I took off my rings. They had become a painful reminder of loss.
My H is working hard on wellness, and we have both worked hard on repairing our marriage. We are getting to know each other all over again. It is difficult and scary, but we both feel that the great love that we had between us is worth fighting for. About 6 months ago my ring finger started feeling bare again, but I could not bring myself to wear the old rings. I am still mourning that man and that marriage. Those rings do not feel right anymore. My H carries them with him.
Many months of research and daily PS haunting later, and I finally have my "re-engagement ring".
And my attitude about jewellery has changed completely. Sure it can be frivolous and in the grand scheme of a world full of poverty and want, I may always feel a certain uneasiness about luxury for the few…but these precious adornments that we wear on our body can be powerfully symbolic. They are very intimate, very personal, and what we choose and why says so much about who we are as individuals. I see on these boards engagement rings, wedding bands, birthday gits, anniversary gifts, "just because I want it!" splurges, and they are each so special- celebrations of love, celebrations of self, talismans of hope, and pledges of trust. In many I see statements of empowerment as in "I feel valuable enough to wear this", and in most I see an intense enthusiasm for the artistry and skill that goes into making these beautiful pieces, which is so very cool.
My H and I often talk about the concept of "repairing with gold" based on the Japanese art of repairing broken pottery with gold, kintsugi. The wabi-sabi philosophy of accepting and appreciating the broken or imperfect has, for obvious reasons, become an important one for us. We love how this is illustrated by these broken pottery pieces where the gold used for repair actually makes the piece more strong and beautiful, and embraces rather than hides the cracks. So my re-engagement ring has become highly symbolic of "repairing with gold" (and obviously some diamonds!), it celebrates a new beginning for us, and something very beautiful coming from suffering. It really is a talisman of hope for me- that he can be ok, that we can be ok, and that with all the changes and challenges there is still meaning in the vows we took to each other so many years ago.
Thanks for reading for those of you who made it through the long moderately off topic wall of text. I guess I really needed to say how important this ring is to me.
***********Just the Ring**********
My H chose for me an August Vintage Round (H VS2 0.99c), because he wanted something unique, yet perfectly cut, and it is an astoundingly beautiful diamond. I've never seen anything like it. And seeing it blew all my ideas of the ring I thought I wanted totally out of the water! The setting had to be all about showcasing that AVR and letting it sing!
So with PS help, and OBSESSIVE PS lurking and general researching, I ended up going with a custom design from David Klass inspired by this Kwiat ring.
https://www.pricescope.com/community/threads/custom-tapered-baguette-setting-help.201629/
Being a total newb the custom process was fairly nerve-wracking, but David was patient with all my questions and concerns and in the end I received a ring that exceeds my expectations.
We went back and forth about the height a bit, and I still do have some reservations, but I knew I didn't want it low set- I wanted the AVR to POP! And it does!
I am over the moon about the delicacy of the proportions. David really nailed exactly what I wanted. After spending months staring at the multi-carat beauties on here, I was concerned that at just under 1c my stone would look off with anything but the daintiest of settings. The baguettes David chose are slender, long and elegant looking, and make the centre stone look fantastic. So happy!
I also can't get over the engraving work. It is gorgeous!
Setting: unplated 14k white gold (palladium alloy)2.5 grams, set with .42cts tapered baguettes G VS2, size 5.5
Centre stone: 0.995c H VS2 AVR