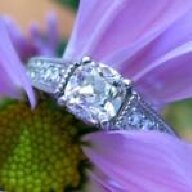 Joined

Nov 2, 2010
Messages

101
Hey all,
I'm fairly new to diamond cuts other than RBs. I was browsing
GOG
for fun the other day and FELL IN LOVE with AVCs. What I really like about them is that they look lovely in a lower color, and you can use the money you save with the color to increase the carat weight! With our preliminary budget, we might be able to afford a 1.1ish L or M colored AVC. The main concern I have is with finger coverage. I have a size 7 finger...
How do cushions (AVCs in particular) measure up with other cuts in terms of how they face up? Are some cushions cut too deep, is that something I should be looking out for?
Do you get good value per square footage with AVCs?
Thank you!