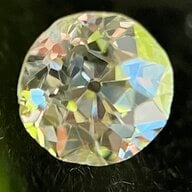 Joined

Dec 16, 2007
Messages

24,364
I have been fortunate enough this week to enjoy the company of two amazing diamonds.
Comparing them is really like comparing two of the finest cars, or two of the finest vintages of wine, or, as my husband says, like comparing Angelina Jolie to Drew Barrymore
Different but equally beautiful! It is an amazing treat to have both of these diamonds in my possession. Alas, I will not be keeping them both.
I took some *very* preliminary photos tonight that I can share with you. I can also share my thoughts on the difference between these two powerhouse cuts, and also the difference between a J colored RB and an M colored AVC!
The diamonds:
1.67ct J VS1 Brain

Gavin

Diamonds Signature Hearts and Arrows diamond, approx 7.65mm in diameter
1.64ct M SI1

Good Old Gold

August Vintage Cushion, approx 7mm square
Some photos first, I will take better ones in the next few days when I have some more time and better lighting, but these are a nice start.
Then I will post my thoughts!