Hi all!
You all were a ton of help with my purchase of an engagement ring 7 years ago, and I'm now returning to properly upgrade. My wife knows I'm thinking of doing it and will happily accept an upgrade, though she loves what she has. I just am in a more comfortable financial position now, granted we do have 2 young boys now as well, so I can do much more than I could back then.
Anyway, here's the original thread if you are interested:
Original Diamond Search
My wife is giving me zero help in the search or what she is looking for; she wants to be surprised. The first time I bought the setting and stone with zero help or input from her as well, I just listened and knew what she may like. Thus, I think she knows she'll be happy with whatever I chose and wants to be surprised. I find the diamond search to be a lot of fun, but upgrading has its own challenges.
This is one shot of the current ring, it's a round Brian Gavin Blue 1.345 carat, H color, SI1. Setting is Sholdt half-bezel. The idea is the same setting, either this one reset with a new stone, or purchase a new one if perhaps the stone cannot be set in the existing.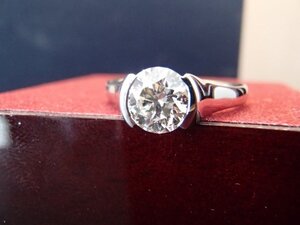 My questions:
1. Does this style of setting still look good with a stone close to or above 2 carats? Not sure if its the type of thing where the size becomes perfect for it etc. If anyone has examples that could help
2. For the ladies here, if you are getting an e-ring upgrade, which of the 4Cs would you want improved the most assuming you already have an ideal cut? I feel like its carat because that is what is always noticable. I know I'll upgrade carat, but my dilemma is if I don't upgrade it enough, does it somewhat fall flat?
3. The one thing I do want is a very clean face of the diamond. The current stone is eye clean, but there is an inclusion that you can see when you put the stone 4" from your face and look for it. Does it bother her or I at all? No. But because I know its there, it just sticks in my mind haha.
4. Anyone have experience with a BGD pre-order? I found a few I like based on the info available, but the prices seem a little too good to be true? Maybe I'm missing something.
My budget is pretty flexible, I'll be comfortable with any diamond that costs $25K - $40K (big range I know) before trade-in value from an affordability standpoint. I do fear both of us would be nervous with a piece of jewelry that is so valuable though, but I assume that fades over time, similar to her e-ring now.
To give you a sense of how all over the place I am in my search, here are 3 contenders (of which there are many):
#1
2.352 G VVS2
#2
2.735 J VVS1
#3
2.117 H VS2
Any advice?