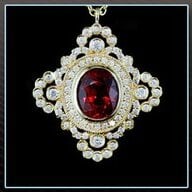 Joined

May 29, 2008
Messages

164
Hi Pricescopers,

After resisting for years, I can no longer deny the pull of an Asscher. Of course, reading all of the old posts about how hard it is to find one's "perfect Asscher" is making me question my sanity!

I read on these forums in an old post that diamond cutters (naturally) try to preserve material and get the largest finished stone from the rough, so the "square emerald cut" stones usually have narrow cut corners. I have seen some of these online that look quite nice and bright without a lot of dark light leakage, and others that look quite dark and sad in the center.

The Asscher-shape that I'm in love with has the wider cut corners - approaching a more octagonal look (but not octagonal) - and of course, I want the light return to be excellent.

SO, after spending waaaaay too many hours online over the past week, and not finding the perfect stone yet, I wondered:

Say I found a stone that was lovely in every way BUT has the small corners, would it be hard or would it mess up the stone to have a professional diamond cutter just nip the corners?

Forgive me if this is a ridiculous question!

If YES, it is possible, who does that kind of work, and how long does it take and how much does it cost?

Thank you to all of you experts, as always. This site has been a huge help over the many years since I first stumbled across it.