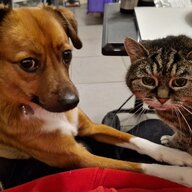 Joined

Jul 7, 2013
Messages

8,386
My contribution so far... grown up coloring.

I use a lot of "crop to shape" in powerpoint to mock up designs from photos.

To scale in your design, these are the stone sizes that fit:

2 2.2mm cornflower sapphires

2 1.8mm cornflower sapphires

2 1.8mm diamonds

4 1.5mm diamonds

4 1mm diamonds

I think your designs could benefit from getting slightly bigger because you could fit more visually striking stones. If this design were a bit larger the sides of the design could take 1mm diamonds and the larger stones in the big elements would get more visually striking.

One of the things I looked at is how to surround your stone with a design that creates a golden rectangle. It's really close to golden rectangle anyway so any design that preserves similar dimensions does it. All of your designs are close to the golden rectangle.
Excellent, many thanks for that.
I would probably use a less intense/saturated colour, and with a hint of green, as in ocean/sea blue-green kind of colour.
I prefer blue-greens rather and true blues, if you know what I mean.
Need to have the stone in hand and then play with colour combinations.
However many thanks for suggestions and mock ups.
DK