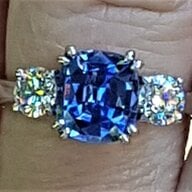 Joined

Apr 5, 2012
Messages

648
Hi all
I'm in the UK, and have just purchased a 1.74ct diamond from a vendor in the US. It was sent via Fedex, reached my local depot in the early hours of Saturday (after having paid the taxes/ duties the previous day) and it hasn't been seen since.
The last time the tracking was updated was around 2am Saturday. It was due for delivery today (and has already missed the delivery deadline) but I have just spoken to the local depot and they say it's not on the van, and they can't locate it in their warehouse either. They are now urgently looking into it and I'm waiting to hear back from them later.
Has this happened to anyone else? If so did it turn up or how was it resolved?
If they can't locate it, should I expect the vendor to deal with the claim against Fedex, and how soon might I expect to get re-imbursed?
I'm so stressed, I can't quite believe this has happened....