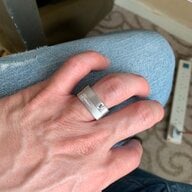 Joined

Sep 11, 2012
Messages

3,046
Thank you

@gregchang35

. I am still second guessing myself about whether its my "perfect" asscher

I somehow managed to find one with virtually no leakage and a lot of brilliance and fire, but the windmills are not perfectly wedge-shaped and I'm wondering if it has as much of the "hall of mirrors" effect typical of an asscher.

I am constantly looking at it in various different lighting conditions and its a very lively diamond which looks good in just about every lighting (some it looks amazing, some it just looks good). So from a light performance perspective it seems like a winner, but from an optical symmetry standpoint it is slightly unusual because it has a small open culet which is slightly elongated rather than square, and that effects the patterns under the table. The perfectionist in me is not sure whether to be delighted by the light performance and face up size, or concerned about the slight quirkiness of the pattern under the table.

As regards the indented natural, its on the edge of one of the wide clipped corners. I spoke to my jeweller and he thinks its a non-issue as regards setting because it is so small. It can be hidden by a prong (I don't want to bezel it) and once that's hidden the stone is more like a VVS2 as far as the other inclusions, so its a "lucky" VS2.
There is a thing called analysis paralysis. It is real.
there are certain things that bother me and others that don't. Ultimately when I choose, those things that bothered me are minor snd pales into insignificance cos I love that stone/ item.
But definitely, go thru the process to make sure it ticks all the boxes for you.
It's a huge purchase!
To quote some seasoned posters:
@Dancing Fire
is it mind clean enough for you. Or was it: it's easier to find an eye clean stone than a mind clean stone.
@diamondseeker2006
if in doubt, don't.
FWIW/ i think it's a beautiful stone! It jumped out of the screen for me. Hehehe. I am biased as I love asschers.