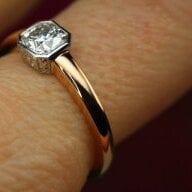 Joined

May 1, 2007
Messages

3,329
(pics of the options to follow)
i need input!! i just can't seem to make a decision on which eternity band to go for. it will be 10th anni gift from DH and my ering is an OEC in the james meyer 1345 setting, platinum.
for the price these things are going for, i want it to be *especially special* and *dazzling* and *perfect* both in and of itself and with my ring. that's not asking too much, right?
heather at singlestone sent me some great photos of two rings i have had my eye on with a solitaire similar to mine. they give me an idea of what they would look like, but even after seeing them i still can't decide.
also, i have scoured PS for images and descriptions of french cuts (with much help from some great PSers) but i am still a bit fuzzy on what french cuts *do* in terms of light performance. if anyone out there has french cuts (or has seen them in person) i would be tickled pink if you could tell me what exactly they *look* like!
i could save a bundle by going with a BGD shared prong eternity or probably even the singlestone all-oec one. on the flip side, the french cuts could be that something special, in which case, the price might be justified? that's just one of the thoughts clouding my decision....