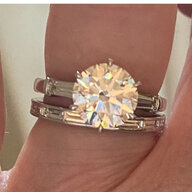 Joined

Mar 31, 2018
Messages

8,151
She spent two hours visiting with a friend in the friends home. The friend got sick the following morning and was running a high fever. After the friend tested positive, the company she works for wanted her to be tested because she spent time with someone who tested postive. She was stunned that she tested positive.

I'm not sure how the testing works here. My brother has had a fever for the past two weeks. He had the test done this weekend. He said someone at CVS came to his car and walked him through what to do. He said he did the test himself while sitting in the car in the parking lot. His test results came back negative today.
Thanks
@Calliecake
I'm happy your brother tested negative. I was behind a person that took a covid test at cvs. I was wondering what was taking so long. I saw him drop a bag into a receptacle. When I drove up I saw it was for covid tests.. I wish we had home tests so we could take them before visiting with relatives. This has been the hardest thing for me to cope with..I want to hug my children and my grandchildren. I'm going to cry a river when I'm able to do so...