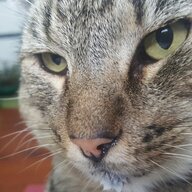 Joined

Apr 30, 2019
Messages

5,679
If you go to Vegas you have to tag me!!!! Can you peer in at a buffet for me?

I'm obsessed with finding out what the buffet situation is

I developed a sore throat about a week after my last sketchy buffet with international tourists. It was probably the only time I started getting nervous but I was back to my usual self the next day much to my relief.
balls of steel indeed !
im weary of a buffet at the best of times with cross condemnation
id rather have one of those banguets with the lazy Susan on the table and of course only with the people one lives with
anytime i start to get a score throat i hate it but i drink a bit of apple cider vinger in some juice to make it slightly more palatable