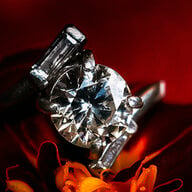 Joined

Jun 27, 2020
Messages

122
As a continuation of my other thread, I'm trying to finalize getting my 5 stone anniversary ring that was meant for our June milestone anniversary. After months of stress, a custom design has finally been finished and agreed upon.
Now, we're down to selecting the diamonds.
I really wanted Super Ideal cut VVS1 diamonds D quality, but have agreed (with the jeweler) to "settle" for Super Ideal cut VS1 F color. The problem is that she can only obtain GIA diamonds. GIA doesn't do "Super Ideal" cut. Fine if the cut still comes close to being what I really want.
The jeweler has given me the option of the below 6 stones to select from for my 5 stone ring. However, from what I've read, the crown angle & pavilion angle on these stones don't quite seem compatible with a "super ideal-like" cut. I haven't seen the diamonds and the jeweler isn't providing any photos. She just gave me the #'s to the GIA reports. So I only have those numbers to go by.
I'm a rooky to selecting diamonds. I desperately need help to tell if what she's offering are good stones or if I should ask for different choices. This is a once in a lifetime ring for a once in a lifetime milestone anniversary: neither of which will be repeated. So I want to get everything right. Our anniversary was almost 5 months ago & I've been working with this jeweler since April to just get the custom design right. Now that that the ring design finally seems to be what I want, I really don't want to settle on the diamonds for my setting. I want diamonds I'll really like. Cut is important to me.
Pricewise, this jeweler is asking about the same for VS1 F GIA diamonds as
White Flash
seems to be getting for their VVS1 D
ACA
diamonds of the same size. However, the jeweler (who designed the setting) insists on sourcing the diamonds. So if I want this setting (which took months to create), I must stay with her.
I know that GIA is rather loose on "Cut" and "Excellent Cut" can range from a mish mash design to pretty hearts and stars. All of the below stones are GIA "Excellent" graded with no Florescence. Other details can be seen with each attachment.
In your opinion, should I accept these stones (or any of them) or do I need to tell the jeweler to more limit her search for diamonds. If the later, what should I be asking for?
Help!!! Please.