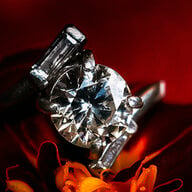 Joined

Jun 27, 2020
Messages

122
Wow, you were totally being ripped off from that jeweller then. Definitely go the super ideal from

WF

, its a no brainer.

Yes

WF

have stellar customer service and will provide additional photos and videos to make your selection a breeze! Good luck.
I agree with you about the local jeweler and the diamonds she has offered.
Until, I made a fuss, she was going to provide VS2 F quality for slighter higher prices than the VVS1D
ACA
stones I'll probably buy from
WF
. When I refused the VS2, she agreed to go up to VS1. However, we're still not sure if she was going to charge even more for that upgrade. My husband was pretty sure better quality would be a significant upcharge over the already too high of prices.
While the ring design was being done, she wouldn't even talk about the diamonds. Once I approved the setting, she then gave us price for the setting with stones of her choice. My husband got her to break that price down to cost of the setting and the cost of the diamonds separately. Both seemed high, but since I haven't price shopped custom settings & design can be arbitrary, I'm not complaining about that. However with the Internet, you actually can somewhat price compare diamond pricing. Her prices are definitely super high for the quality she is offering. Maybe that's just how things are locally. I don't know.
However, I do know that I have other options. I've had my heart set on
ACA
from the beginning. They're not the least expensive diamonds around, but everything that I've read is that you get what you pay for. So I'm going to do what is right for me and get
ACA
stones and stop worrying about offending the local jeweler who can't provide me with what I really want. I haven't heard a word from her in over a month. She never even bothered to follow up on the diamond choices she gave me. So it's pretty obvious that she doesn't value me as a customer.
Making this move to select
ACA
diamonds is like a weight has been lifted. During the whole design process with the local jeweler, I kept asking if she could get me diamonds close to what I had my heart set on. But she refused to talk diamonds or prices until the mounting design was totally complete. Now, I know that she can't provide the kind of diamonds I have wanted from the start.
I really wanted to keep my business locally, but if I can't, I can't. I will be buying my diamonds from
WF
and getting diamonds I really like; plus these pretty diamonds will provide more bang for my money.