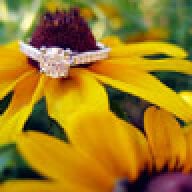 Joined

Nov 29, 2008
Messages

311
For those of you that are in the complete dark about what your FFI will buy you, are you worried at all that you might not like it, or it won''t be what you were expecting?
Of course, you''ll love it for what it represents, etc. etc.
Today I asked my BF if I could tell him a tiny but super important detail about what I would like in a ring. He 100 percent doesn''t want me to talk about it at all. His response was, "No! If you keep on talking about rings I am going to buy it, put it in an envelope, and mail it to you! I wish you''d respect that I don''t want to talk about it. I want there to be at least some illusion of an element of surpise and magic, and you talking about it ruins that for me."
He was joking about the mailing it to me part, of course. But.. it''s driving me nuts. For example, I really want a thin band. Nothing more than 2.5mm. I am afraid that he''ll buy me something thicker and it''ll look weird on my small 4.75 finger.
I feel bad that I worry about this. It makes me feel a tad materialistic.