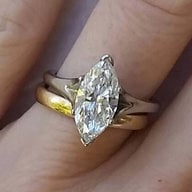 Joined

Nov 2, 2016
Messages

67
So happy! Boyfriend just proposed with a family ring. It's a marquise in a huge yellow gold band, and we've decided to reset it. I don't know the carat weight but it's around 12x6mm (pardon the leftover halloween nail polish):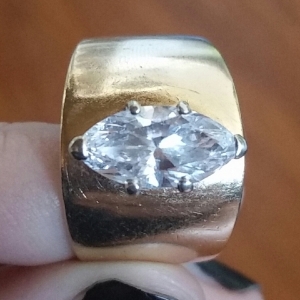 I don't know much about diamonds or jewelry, but the marquise shape reminds me of a gothic arch, so I'd love to find a setting that evokes that.
I used to have a pearl ring in a 4-prong setting shaped like the underside of a romanesque arch (
like this picture, turned upside down, with the pillars as the four prongs
). That inspired me to think of doing a similar setting here, but with pointed gothic arches, and three "archways" crossing instead of two (since the stone needs six prongs).
I mocked up a crude visualization of the shape I'm thinking of: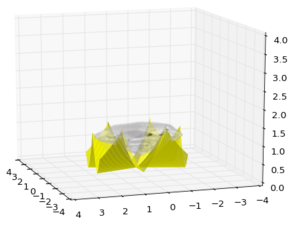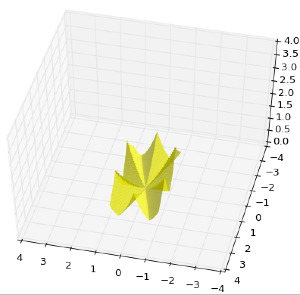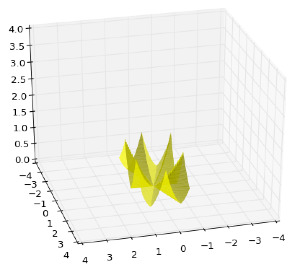 It'd probably be best to have some kind of hole in the bottom, or find some other way to let light in, but I hope you see where I'm trying to go with the shape and architectural inspiration. Also I think it'd look great if the "archway" on the narrow side of the stone extended into the band to create grooves on both sides.
I haven't managed to find any settings that evoke an archway like this, and googling things like "architectural ring", "gothic arch ring", etc turned up nothing.
Can you recommend any relevant settings, or any custom jeweler whom you think would be a good choice for this project? Any other advice is welcome too.
Thank you!