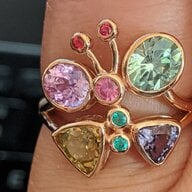 Joined

May 13, 2018
Messages

4,038
OK guys here is the sapphire I got at Yvonne's sale

It's only 5 mm but the color is really gorgeous. I'm probably setting it in a sunflower ring. For the melee I'm leaning towards emeralds and/or diamonds presently. Was thinking it might be fun to alternate two colors in the melee (like emeralds and diamonds)

The other option would be to go with a vivid pink or red spinel. That vivid Jedi color spinel would awesome.

.
For such a deep blue, tonal variations instead of contrast would look more harmonious. I would suggest purple, a lighter blue, or green for the sidestones, not red or pink. I think red or pink would not be the most flattering, as they would be for a more turqoise blue color.